From The University of Minnesota Climate Adaptation Partnership and national design firm HGA • Reposted: March 13, 2023
The University of Minnesota Climate Adaptation Partnership and national design firm HGA present the current practice, barriers, and opportunities for use of climate projection data and climate change resilience client services. 
Climate change impacts are growing every year, threatening lives, business continuity, and infrastructure—costing an average of $152.9 billion dollars per year in the U.S. alone (NOAA, 2022). Yet the Architecture and Engineering (A&E) industry still relies on historical weather data as a primary resource for performance analysis, system sizing, and other design decisions, as climate projection data are not available in the formats used by A&E codes, process guidelines, and software.  
The new report "Climate Forward? How Climate Projections Are(n't) Used to Inform Design" from the University of Minnesota Climate Adaptation Partnership (MCAP) and national interdisciplinary design firm HGA, reveals the alarming gap between the current state of A&E practice and climate science.
Currently, energy modelers most often use the Typical Meteorological Year (TMY3) dataset produced by the National Renewable Energy Laboratory (NREL)— based on past median weather conditions for a given location that is sometimes more than three decades old. Our changing climate makes 'climate normals' less useful for designers, poorly reflecting the range, frequency, and intensity of potential future weather conditions that a building will need to withstand during its lifespan. Key systems and infrastructure globally will continue to be vulnerable unless design standards change to account for changing climate.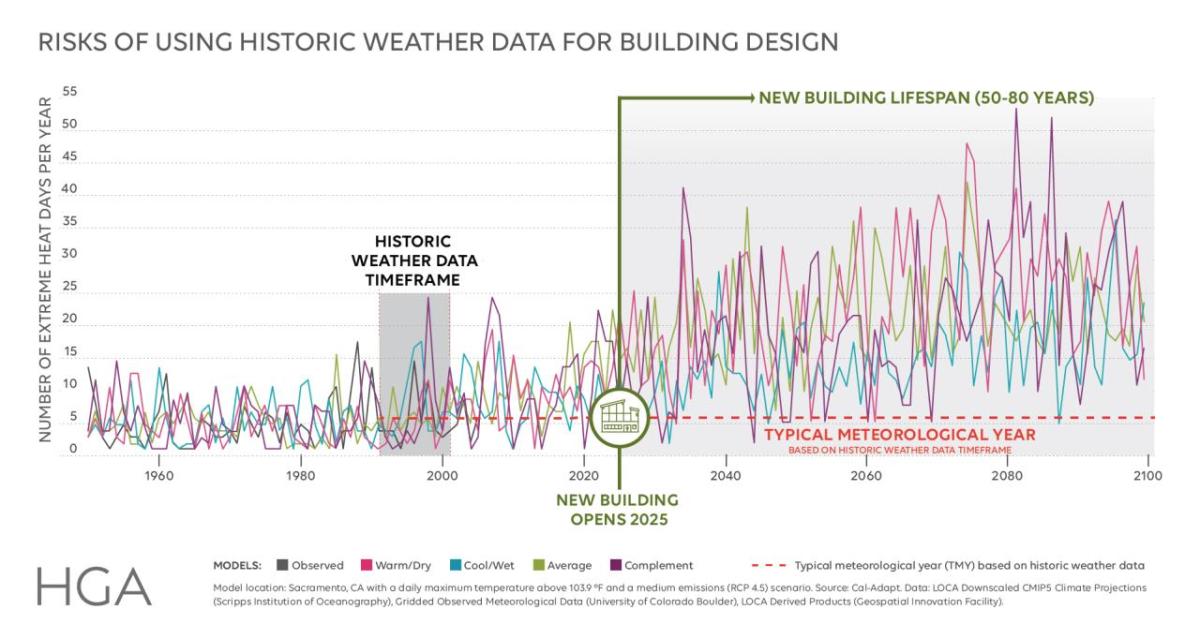 "We know climate change is here and the past is no longer the best predictor of the future. As we seek to make our buildings more energy efficient and 'climate-friendly', we must also use climate projection data to ensure our built environment is resilient to the climate of the future." say Dr. Heidi Roop, MCAP's Director and a report author. "This report highlights that there is work to do by the climate science community and A&E professionals to ensure we are designing for climate resilience. Clients and professional societies also play a key role in driving a holistic, forward-looking approach to design of the buildings and infrastructure we all rely on."
The research makes a decisive case for the development and promotion of industry standards, mandates (including building codes), guidance and training for using climate projections in A&E applications. It also articulates the critical role for boundary organizations and climate data developers to build partnerships and capacities to bridge this gap alongside A&E professionals.
"Climate Forward?" also addresses the missed opportunity to extend the life of our buildings. Today's sustainable design efforts focus primarily on climate change mitigation—that of reducing carbon emissions. In contrast, MCAP and HGA's research shows how the industry should also shift to design for climate change adaptation—which are a broader set of design measures that factor in the projected climate over the lifespan of the building and systems. 
Lead author of the report, Ariane Laxo, HGA's Director of Sustainability said, "There is tremendous potential in climate resilience services—professional services related to climate change resilience and/or adaptation using climate projection data." She continued, "identifying the right data formats and timescales to factor in the projected climate over the lifespan of the building, landscape, and systems, will dramatically change the way we design to create a more resilient future. Industry associations need to create standards for how to integrate these data into practice, so we are using consistent methodologies."
The climate is changing rapidly. Action must be taken now, and must involve substantive collaboration with climate data developers, boundary organizations, A&E associations and professionals, policy makers, building code & standards bodies, higher education institutions, and any organization that hires A&E professionals. The report concludes with recommended actions that could close the gap between climate science and the A&E professionals who are designing buildings and infrastructure that must withstand climate change.
Read the full report, "Climate Forward? How architects and engineers are(n't) using climate projections to inform design."
Report authors: Ariane Laxo, HGA, Brenda Hoppe, University of Minnesota Climate Adaptation Partnership, Heidi Roop, University of Minnesota Climate Adaptation Partnership, Patrick Cipriano, HGA and University of Minnesota Climate Adaptation Partnership
About MCAP
The University of Minnesota Climate Adaptation Partnership (MCAP) is a partnership among university, public, non-profit, and private sector groups organized to support Minnesota's ability to adapt to a changing climate. MCAP conducts cutting-edge climate and adaptation research, champions climate leadership, develops the next generation of adaptation professionals, and advances implementation of effective, equitable adaptation actions across sectors, communities, and levels of government. Learn more about MCAP at climate.umn.edu or follow us on Twitter or LinkedIn.
About HGA 
HGA is a national interdisciplinary design firm committed to making a positive, lasting impact for our clients and communities through research-based, holistic solutions. We believe that great design requires a sense of curiosity—forming deep insight into our clients, their contexts, and the human condition. We are a collective of over 1,000 architects, engineers, interior designers, planners, researchers, and strategists. Our practice spans multiple markets, including healthcare, corporate, cultural, education, local and federal government, and science and technology. Visit HGA.com or follow us on Facebook, Twitter, LinkedIn, and  Instagram. 
To see the original post, follow this link: https://www.csrwire.com/press_releases/768271-new-climate-forward-report-advocates-use-climate-projection-data-architecture