Young people rally in front of the California statehouse in support of climate justice at a Fridays for Future demonstration on April 21, 2023. Image: Lynn Friedman/Flickr
By Mary Mazzzoni from triplepundit.com • Reposted: May 20, 2023
Investing in viable solutions to social and environmental problems can turn a profit — and the most lucrative ideas may not come from where you'd expect. That's the philosophy behind Village Capital. The nonprofit launched in 2009 under the tagline "democratizing entrepreneurship." Though it's based in Washington, D.C., its founding mission centers on identifying and supporting innovators outside the big coastal cities that receive the lion's share of venture funding.
Over the past 14 years, Village Capital has supported nearly 1,000 such startups through 45 U.S.-based accelerator programs — which provide funding and mentoring to entrepreneurs with smart ideas to solve big problems.
One of its most recent accelerators squares in on the crucial issue of climate justice, with a call for innovators on the front lines of climate change to submit locally-driven solutions for backing from Village Capital.
What is climate justice?
For the uninitiated, climate justice refers to the imbalanced nature of the real-world impacts caused by climate change: Those who fare the worst amidst natural disasters and sea-level rise tend to be poor and underserved, and as such have contributed least to the greenhouse gas emissions that cause climate change. For context, a billionaire will produce a million times moregreenhouse gas emissions in their lifetime than the average person, according to research from Oxfam.
The related cause of environmental justice refers not only to the impacts of climate change, but also the sources of climate-inducing pollution — and where they're located. In the U.S. in particular, years of segregation has created a situation in which communities of color are far more likely to be in the direct vicinity of polluting sites like oil refineries and chemical plants. A bombshell 2021 study from the U.S. Environmental Protection Agency found that people of color are exposed to far higher levels of air pollution during their lifetimes than white people, regardless of income level.
Again, people living in communities that have faced chronic disinvestment for decades are more likely to be poor, and as such consume far fewer of the goods and services that these polluting industries provide. Yet they're still saddled with the impact, whether that's long-term air pollution exposure that can lead to preventable illness, or catastrophic events like leaks and explosions.
Impacted communities have sounded the alarm about environmental and climate justice for decades, but the issues are only more recently gaining attention on the global stage. A global loss and damage fund to help developing countries cope with the impacts of climate change was finally pushed across the finish line at the COP27 climate talks in 2022, although it will be years before it's up and running. U.S. President Joe Biden has also made justice a central pillar of his climate plan, with billions in new investments going toward efforts to reduce emissions and pollution in underserved communities.
Still, government investments have by no means reached the scale of the challenge — making private-sector interventions like Village Capital's accelerator essential to creating the widespread changes needed to cut the problem down to size.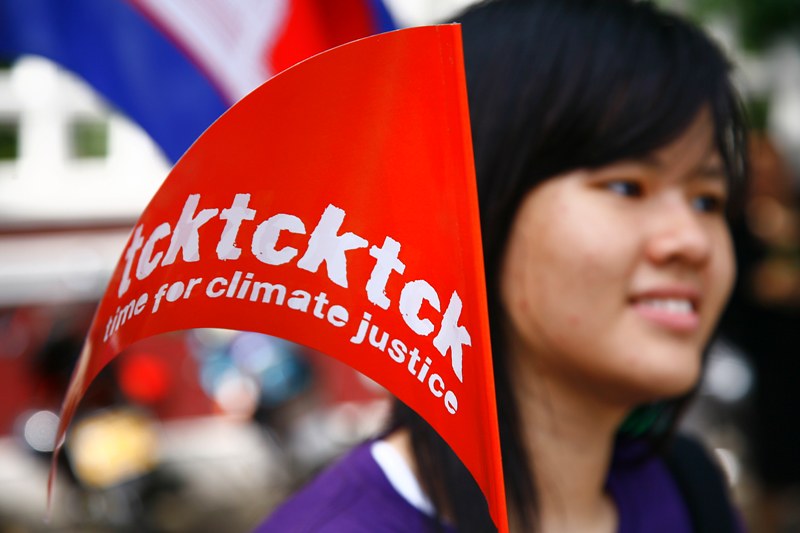 Inside Village Capital's climate justice accelerator
Announced last month, Village Capital's accelerator is seeking early-stage startups that support immigrants, refugees and communities of color on the front lines of climate change in the U.S. In partnership with the WES Mariam Assefa Fund, Village Capital will provide grants and coaching to 10 to 12 startups with promising solutions that help their communities prepare for and adapt to climate impacts. The accelerator is fairly industry-agnostic, with startups across the climate tech, financial tech and property tech spaces encouraged to apply.
"We are looking for impact-driven startups that are solving critical challenges for people and communities who are disproportionately impacted by climate change," Elizabeth Nguyen, economic opportunity practice lead for Village Capital, told TriplePundit. "We've been very intentional about identifying the solution types, which thematically fall into: disaster preparedness, public action and civic response, resilient housing and cities, and overall support for immigrants and refugees. Each one of these solution types prioritizes supporting people and communities and enables them the ability to respond to the impact of climate change."
Along with grant funding, the selected entrepreneurs will receive invaluable training on how to further scale their businesses and attract investors, including help with a development plan to chart the course for growth. Through Village Capital's unique peer-selected investment model, the cohort of entrepreneurs will decide which two climate justice solutions will be eligible to receive an additional $100,000 in investments from WES Mariam Assefa, Nguyen said.
"This investment, especially at an early stage, has the potential to change the trajectory of a company, considering many immigrant and refugee founders often don't have strong social networks or support systems that founders who may have been born in the U.S. have," she explained. "We also can't stress enough how important social capital, mentorship, and connections are to early-stage companies. Village Capital provides not just training and financial support, but introductions to relevant mentors who are in the refugee and immigrant space and climate tech space. Our support enables our founders to walk away with tangible ways to speak to investors."
Championing locally-driven solutions to climate challenges
Importantly, Village Capital aims to support locally-led solutions driven by the people and organizations that experience climate impacts in their communities firsthand.
"We've seen time and again that top-down solutions will not be sustainable or effective because they don't have a full understanding of the needs in a community," Nguyen said. "Locally-led startups also ensure that the solutions elevate the communities collectively so they are not left behind in the wave of innovation, a challenge that has unfortunately already been reflected in the history of climate tech solutions."
The company's accelerator model is proven to work, with over 150 accelerators supporting more than 1,400 startups globally. Entrepreneurs graduating from Village Capital accelerators raised three times more capital and earned 2.3 times more revenue compared to a control group, according to an impact study commissioned by the company.
The company's separate venture capital fund, VilCap Investments, has invested in over 100 peer-selected startups from across these accelerators — again, with a focus on founders who are often overlooked. Nearly half (46 percent) of startups in the fund are led by women, and 30 percent are led by people of color. A stunning 80 percent are based in states outside New York, California and Massachusetts, which together receive about half of all global VC funding, according to Village Capital.
"By catalyzing locally-led startups and strengthening the ecosystem for these entrepreneurs to succeed, we can create the biggest and most sustainable impact, one that improves and increases services and resources for the communities who need it the most," Nguyen said.
Applications for the accelerator close on May 25, 2023. Full details and eligibility criteria can be found here.
To see the original post, follow this link: https://www.triplepundit.com/story/2023/startup-accelerator-climate-justice/774526