Image credits: georgerudy/Adobe Stock and Glow
By Terry E. Cohen from triplepundit.com • Reposted: March 9, 2023
Research has more than made the case for linking environmental, social and governance 
(ESG) strategies to corporate profitability. What's good for people and the planet does, indeed, benefit a company's bottom line. The trickier part is determining what programs will yield the best results for the investment.
Some ESG pathways are easier to attain and measure direct results, such as cost reductions. But top-line market growth demands a greater understanding of customer wishes and perceptions of a company's ESG efforts. Those expectations and priorities will differ by industry sector, as well as by geographies, cultures, and demographics like age and gender.
While studies and reports can point companies in the right direction with top-level overviews of trends and industry insights, real-time survey and data collection can dig deeper into what consumers prize in ESG efforts.
Measuring consumer ESG priorities across industries, brands and more
Glow, a research-technology business with offices in North America, Europe and Asia-Pacific, first started tracking what consumers think about ESG issues in relation to purchasing decisions over two years ago. It began with a field of approximately 40 issues that, through multiple research studies across three markets (U.S., U.K. and Australia), were then synthesized into 13 ESG drivers of consumer priorities and perceptions.
The process yielded a diagnostic tool called the Social Responsibility Score (SRS) that not only provides a number to tell a company how it is perceived in its ESG efforts, but also where it stands in its industry and against its competitors and why consumers score it that way.
For example, among food and grocery (F&G) companies in particular, three environmental drivers — reducing emissions, respecting natural resources, and protecting wildlife and ecosystems — ranked highest for importance among consumers, as shown below.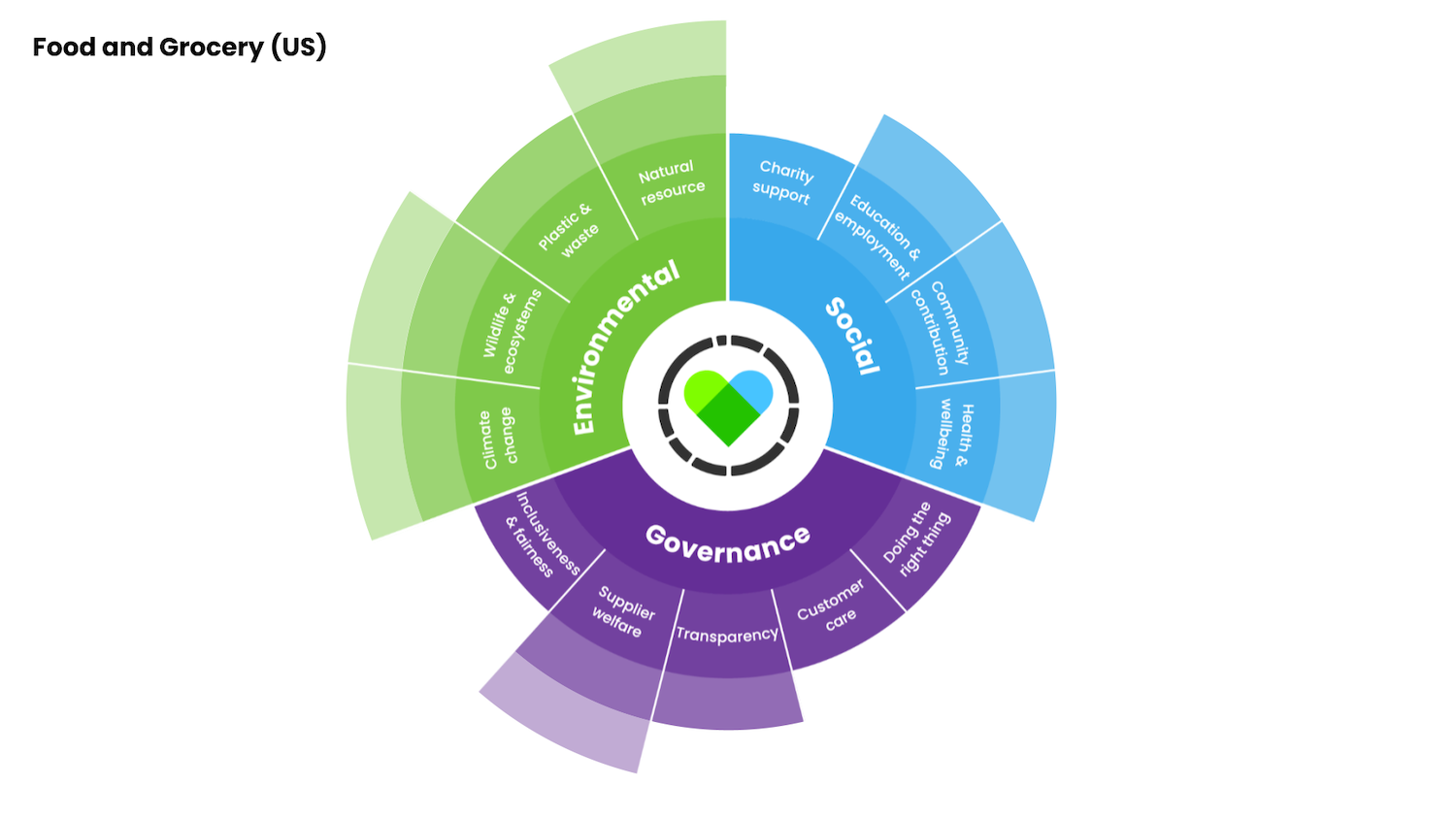 This isn't to say social drivers like health and well-being aren't important to F&G customers — they are. But understanding consumers' top concerns at a given time can help companies prioritize, in terms of both programming and messaging successes. Communicating accomplishments in the areas that matter most to consumers can translate into customer loyalty as well as brand switching.
On the other hand, if a brand and its competitors are all communicating about the same things, it can be harder to stand out. In cases like these, a brand may opt to lean into an area that isn't as much of a focus for peers and competitors. Or, if it finds it's under-performing compared to peers on key issues that matter to consumers, it may decide to invest more in those areas and communicate an improvement story.
Listening to consumers via data capture enables this kind of decision-making, helping brands to get the most return on their ESG investments.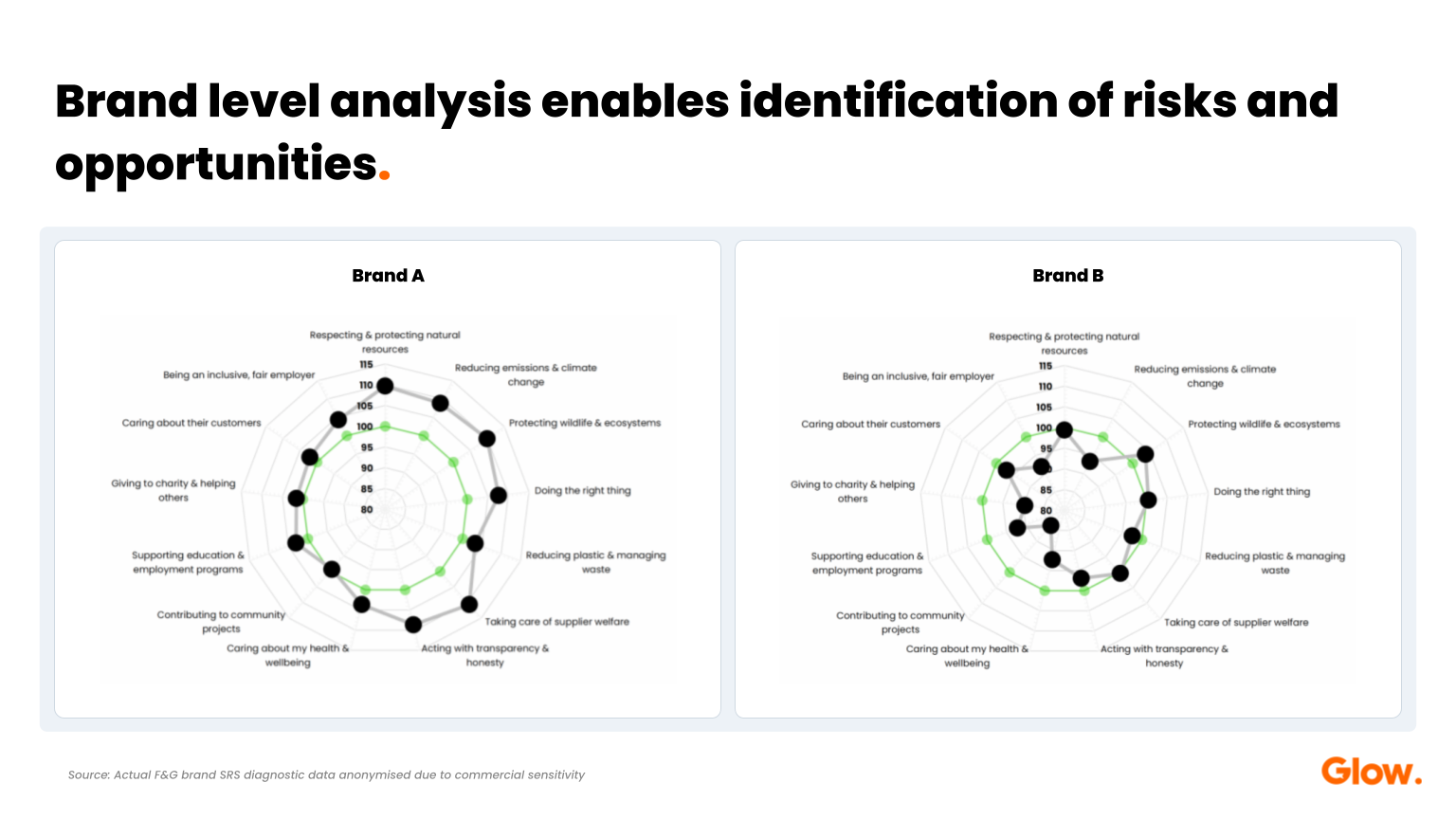 Take, for example, these two anonymized F&G competitors from Australia, shown above. Both brands mapped their SRS in relation to the industry benchmark (the green line). Brand A clearly outshines Brand B on virtually all of the 13 drivers. The achievement gap in the areas most important to consumers, such as "reducing emissions" is substantial enough to be a significant opportunity for Brand A to message that success to customers hungry for guidance on where to invest their purchasing power. Meanwhile, Brand B can see where it's progressing and where further investments can help it improve credibility.
ESG drivers differ across industries
What weighs heaviest on consumers' minds will vary across industries. For example, Glow found that governance and social drivers are the biggest influences on ESG credentials in the health insurance industry in the U.S., as shown below.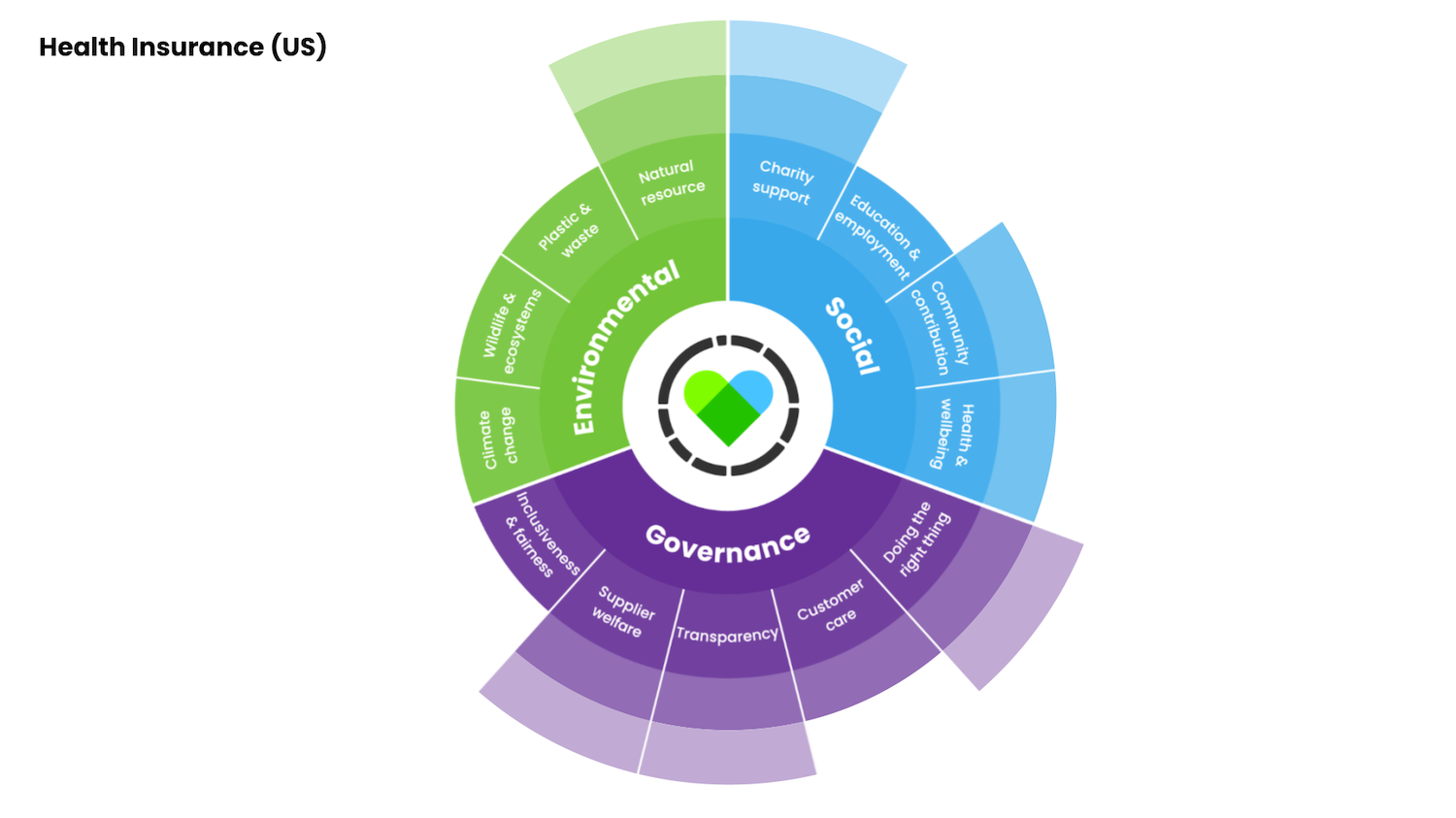 In travel and tourism, on the other hand, U.S. customers view all three divisions of environmental, social and governance factors as important for the sector to address.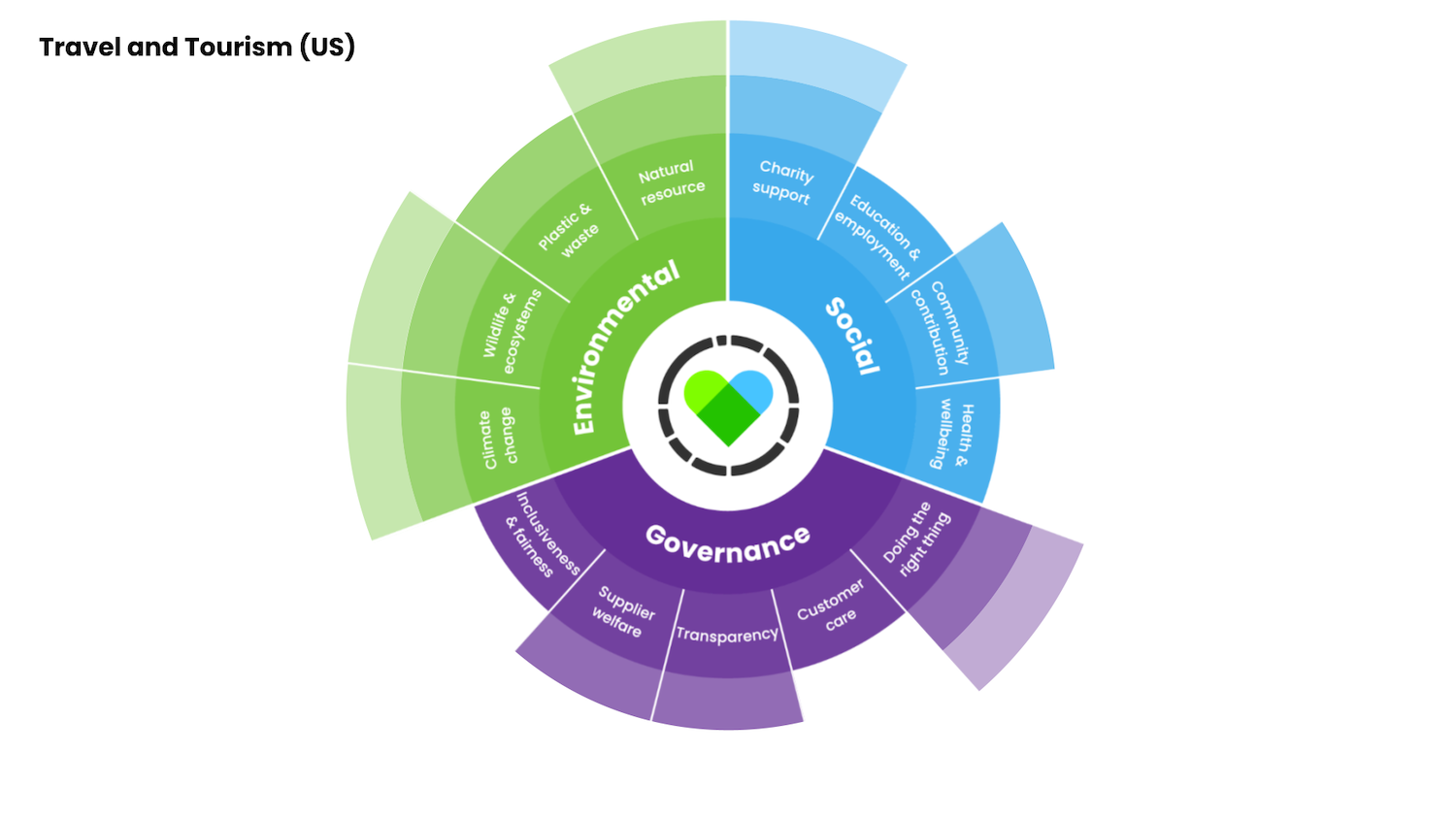 In a balanced framework such as the latter, drilling further down into age, gender, geography, and competition among brands is vital to determine the focus for programs and messaging to avoid spreading investment and resources too thin.
Continuing to zero-in on what matters to who
Price and quality are typically the engines powering consumer choices, but business leaders may be surprised at how strong "sustainability" has become as a beacon to consumers looking for safe harbor for their purchasing dollars.
This is especially true in the F&G sector — where 1 in 2 U.S. consumers have switched brandsbased on sustainability considerations, and 1 in 5 ranked ESG/sustainability as one of the top three drivers for deciding what brands to purchase, according to Glow data.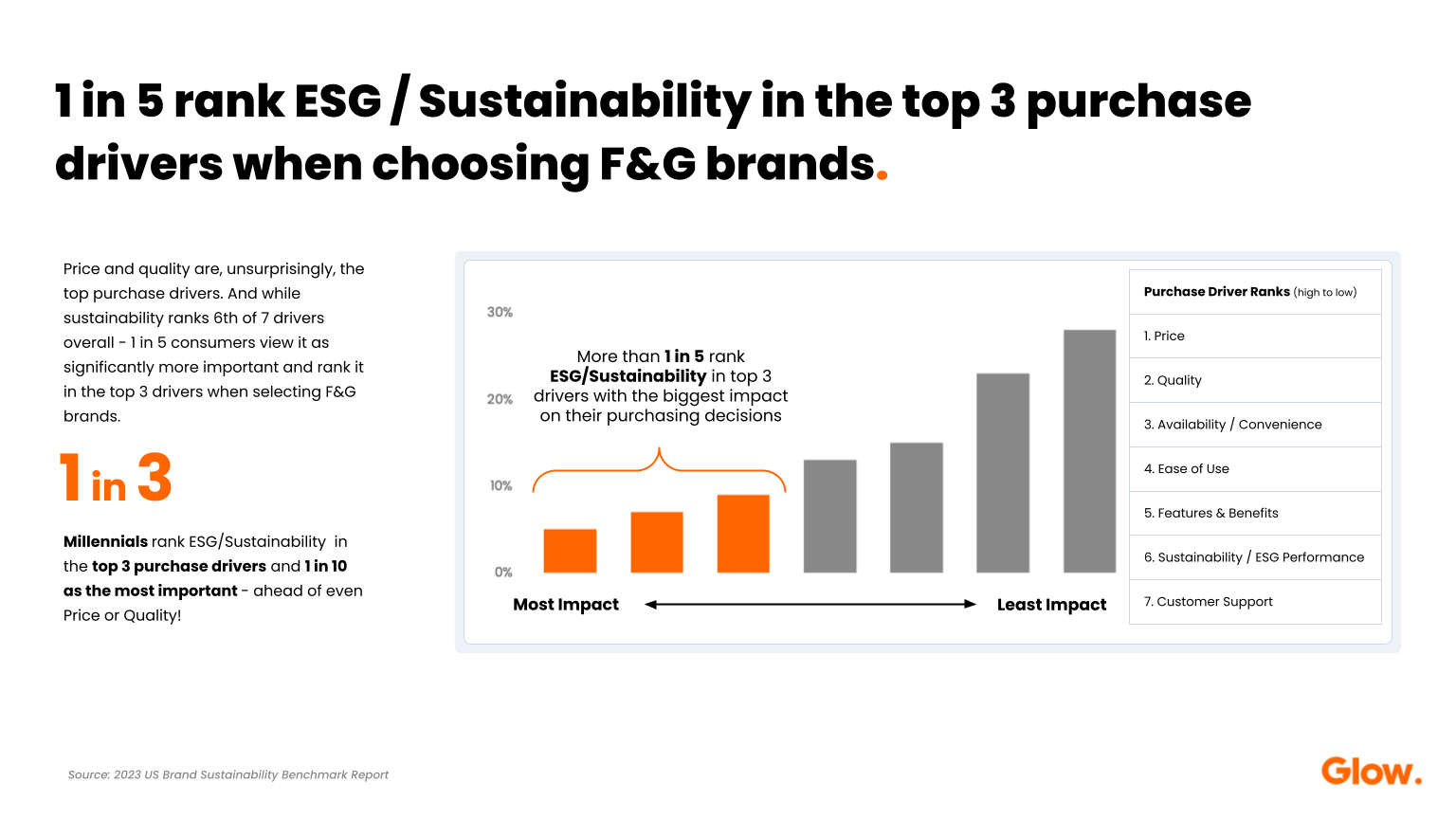 Diving deeper to look at age segmentation, millennials prized ESG/sustainability even higher, with 1 in 3 such consumers rating it as one of their top three considerations, behind price and quality. Further, 10 percent of millennials rated ESG/sustainability as the top influencer of their purchase decisions, even more than price and quality, Glow found.
These findings demonstrate the importance of ESG initiatives and messaging to any company's bottom line. To fail in listening and responding to consumers in this regard is to surrender profits and reputation to competitors that are willing to leverage the feedback.
Data and surveys give a brand that feedback continuously since the measurements can be taken over set time periods, in connection with program launches or in tandem with media campaigns.
"The response from people taking these surveys is actually very clear. You can understand what it is that's driving the consumer response and what's driving the metric you receive," said Tim Clover, CEO of Glow. "It allows you to line up the programs you're running with the different areas and ask, 'Are these the programs we should be communicating?' If so, to whom do we communicate and through which media?"
Alignment of ESG programs with consumer expectations, coupled with alignment of messaging to bring about positive public perception of those programs, creates a winning combination for brands.
The tools exist to know what ESG concerns consumers really care about. The decision to use those tools enables business leaders to enhance brand profitability while "doing the right thing."
This article series is sponsored by Glow and produced by the TriplePundit editorial team.
To see the original post, follow this link: https://www.triplepundit.com/story/2023/esg-consumers-care/768091